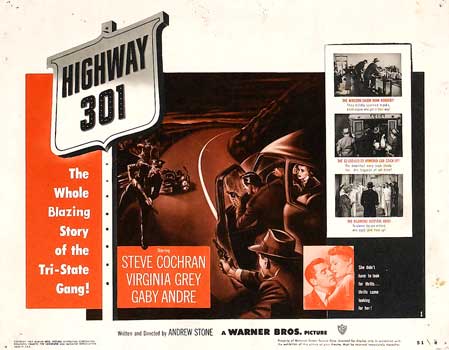 Yesterday afternoon I decided to hop on the bike and ride North up U.S. 301. On my drive to and from Pittsburgh for the AFC Championship game in January, I took US 301 to US 321 before hitting I-77. What I noticed about these roads was that they were both pretty empty as far as traffic goes, and, especially in the case of 301, it was clear they were once major through roads.
Before I-95 became operational in the area sometime in the 60s or 70s, US 301 was one of the major, if not the most important, North-South routes from Florida all the way up to north of D.C. In Georgia and South Carolina, this is clearly seen in the sheer number of motels that line the road. Most of these buildings are shut down, and those that are open mostly seem to cater to more permanent residents these days. There are also a large number of closed up rest stops, service stations, and other business around the route. For the most part the road is in very good repair, and the traffic is very light, which makes it an ideal route for a ride.
I decided to grab my camera, hop on the bike, and ride a little bit over the border into South Carolina. The farthest north I reached was Allendale. From that point, I turned around and stopped along the way back to capture some of the sights of the decay I saw.

If I had been smarter, I would have pinned the locations on Google Maps with my iphone. I did not, however, so you get no precise coordinates for these sights. Let's begin: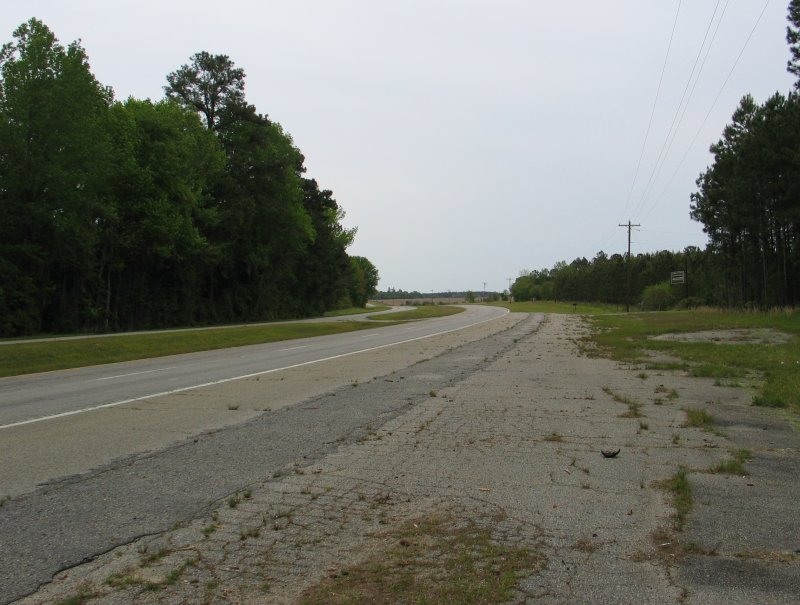 The first photo is taken from right in front of the first location of which I took pictures. We're a few miles south of Allendale, SC, and this is a view of the road north. In Allendale there is an elementary school, which still appears to be in use, but it is surrounded by a locked fence with barbed wire on top of it. This demanded a picture, however, I was in an area where there actually were lots of people, and I didn't want to be the creepy guy taking pictures of an apparently active elementary school. As you can see 301 is, at this point, a divided 4 lane highway. It alternates between this mode, an undivided 4 lane highway, and simply a two lane highway throughout it's span.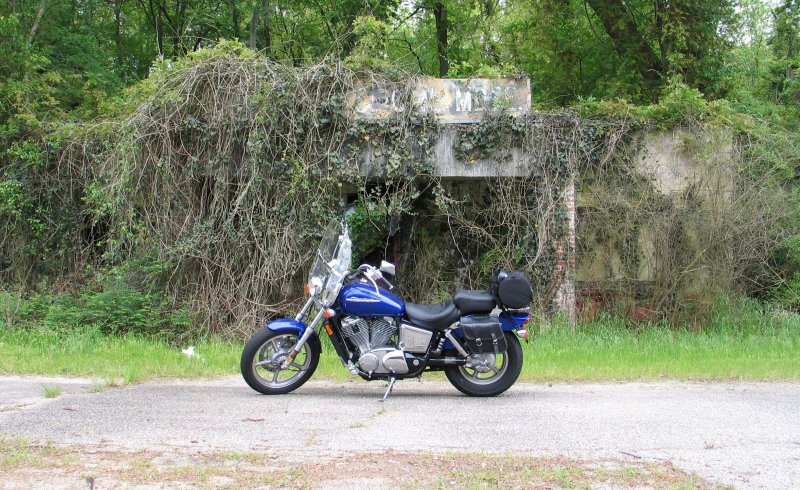 This is the first location I photographed. I have no idea what the purpose of this building once was, however, it has been almost completely swallowed by the forest which is creeping back towards the road. I would have taken pictures inside, however I was dissuaded by the very powerful smell of rotting or sewage, as well as a extremely large vulture flying out of the top of the building as I approached. Unfortunately, I wasn't quick enough with the camera to capture Mr. Vulture.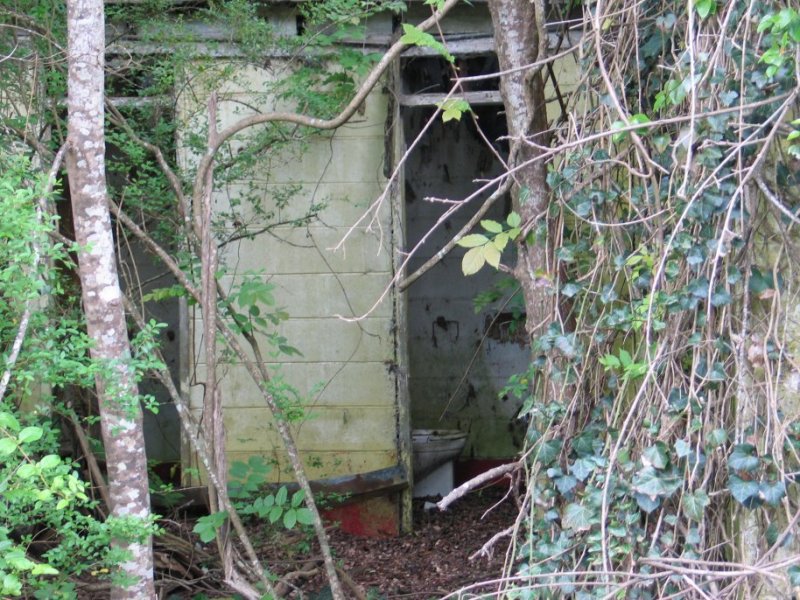 What ever this place was, it needed outside exiting toilets, apparently. This makes me lean towards thinking it was probably a gas or service station, however there was no place where I could see the remains of a pump, nor any attached garage that still stood. I think I can hold it for now.
It was apparently also extremely well lit (or not). This tin-can light seems to be the only thing that would have provided light in the front, with the exception of any fixtures that may have fallen off of the front of this very low building.
This was apparently once some sort of South Carolina Welcome Center (here). It's shut down now, with orange barrels blocking the entrances… not a problem for the motorcycle. The sign in front now reads "Lower Savannah River Alliance", and sure enough, according to a Web search, this is now their headquarters. As you will note, on that site the picture of the building has fake animated flags added. That's probably necessary as there aren't any ropes or pulleys still attached to those flag poles. The place really doesn't seem to be in use at all, currently, though, and the site I linked too claims it was last updated in 2005. It also links to, on it's front page, a flier for a October 2005 meeting.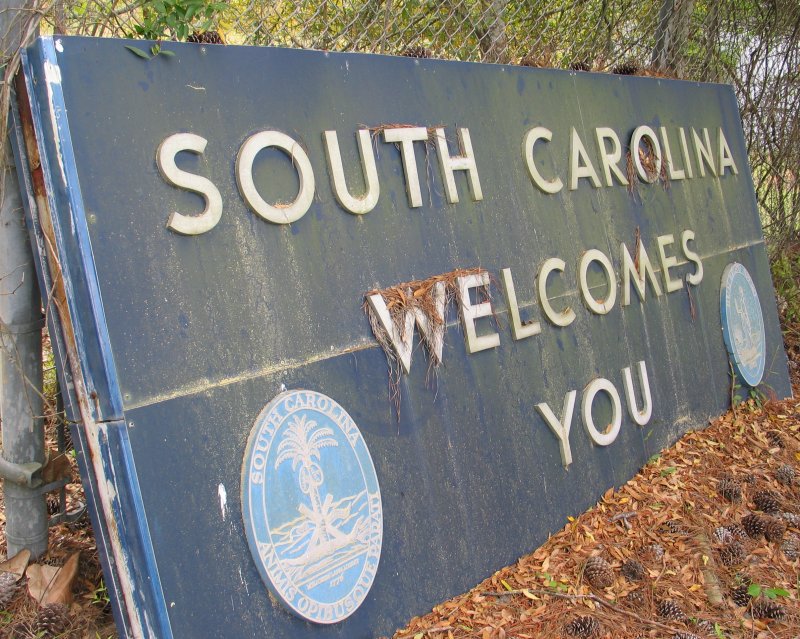 Leaning against a fence behind the building is the old "South Carolina Welcomes You" sign. As it turns out, South Carolina no longer welcomes you.
Speaking of this fence, here's the remainder of a sign posted on the fence. Something about sewage and a pond. A warning to keep out. Keep this in mind for later.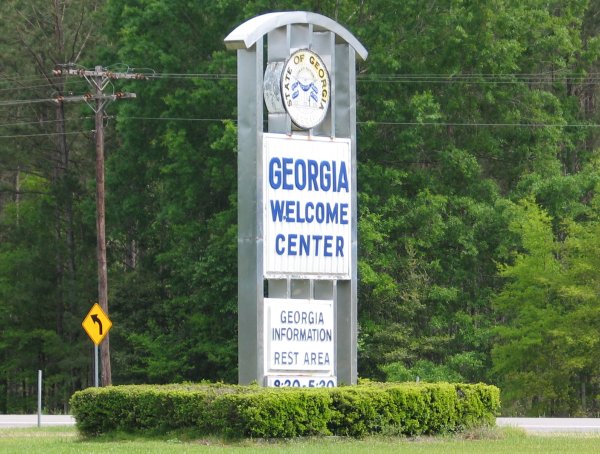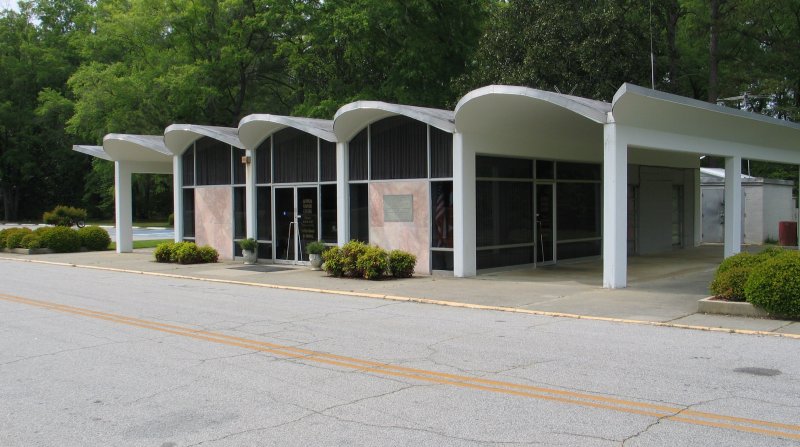 About 5 miles South (actually, mostly West), and on the opposite side of the road, is the Georgia Welcome Center (still operational, thank you very much).
According to that plaque on the front of the building, this ultra-modern looking travel stop was built in 1960. While I've tried to pin down a date on the Internet as far as when I-95 opened through Georgia, I can't find anything definite. The more I look, the more likely it seems to be sometime in the 70s. At any rate, look at this flashy new rest stop.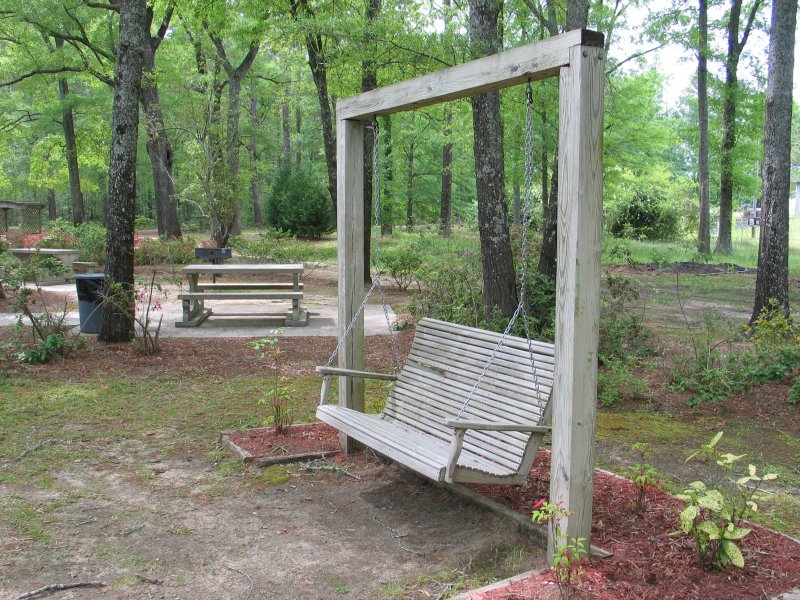 While the old SC rest stop had some picnic tables in the wooded area, the Georgia stop really pulls out all of the stops. It has dog walking trails as well as nifty swings and picnic tables as seen here. You can also see the metal charcoal grills provided for all of those people who travel with… charcoal… and raw meat… Seriously, has anyone ever seen one of these rest stop grills in use anywhere?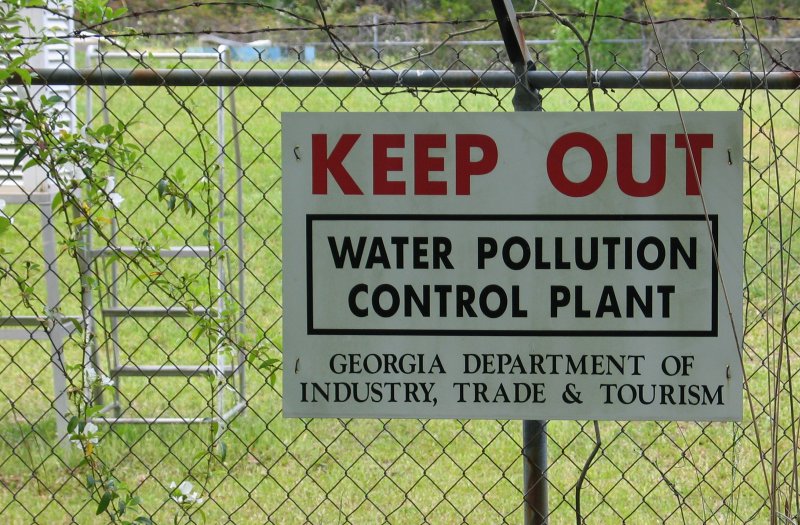 But now check this out… Right behind the picnic area… what's this? A barbed wire-topped fence and another keep out sign. That's right, it's another Water Treatment station. What is it with these Southerners, rest stops, and sewage? Also, what a department… the Georgia Department of Industry, Trade, & Tourism… that's quite the wide net.
We're going to head North back into South Carolina for a little bit here. I wanted to put the two rest stops together in this story, and to combine my two adventures "off road". I actually visited the Georgia side of this stuff first, but that's not important.
Here we are right here. Currently the 4 lane divided 301 merges back into a 2 lane highway. This may not have always been the case. We're about to take a trip down an abandoned parallel stretch of road. According to the director of my department, this section has been closed off at least as long as she's been in Statesboro, which is 30 years. She uses the 301 route to visit her family in North Carolina. She tells me this has been closed down at least as long as she has been making the trip.
This picture is a view to the north from the start of the abandoned spur.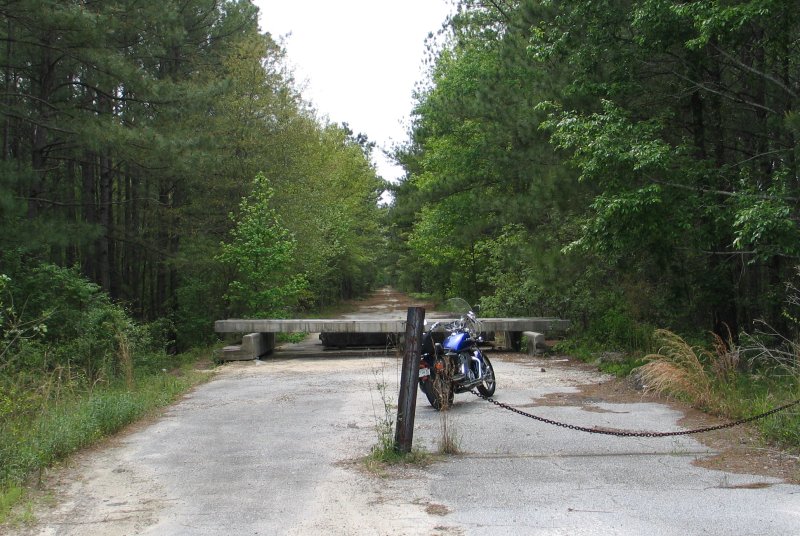 Here you can see the view South, with my bike in front of the barrier. To the left of the barrier were four-wheeler tracks, and I probably could have tried to get my bike around, but it certainly wasn't level. My bike is also heavy. The way around was also dirt. I'd try it on a dirt bike, but certainly not on the Shadow. Let's walk.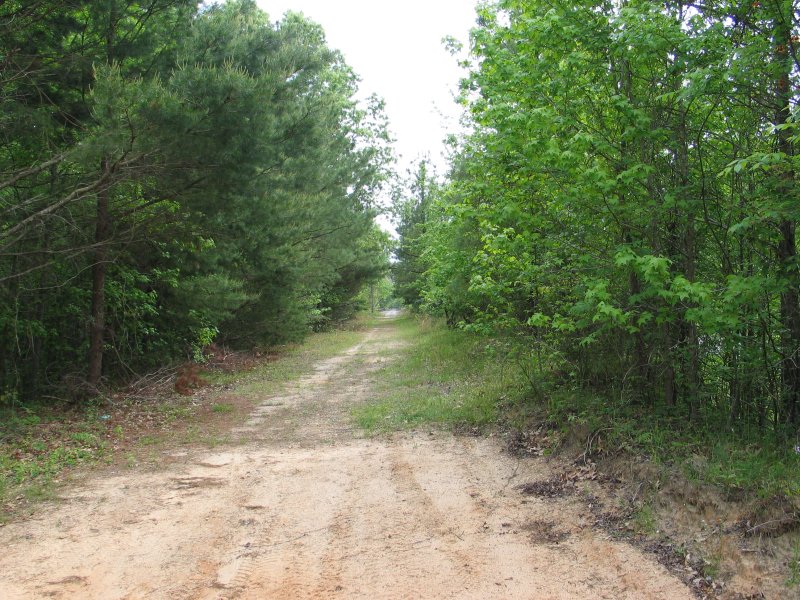 In the first photo you could see that the asphalt was somewhat intact for some stretches of this old road. As you can see here, there are some points where the dirt and plant life have reclaimed the surface.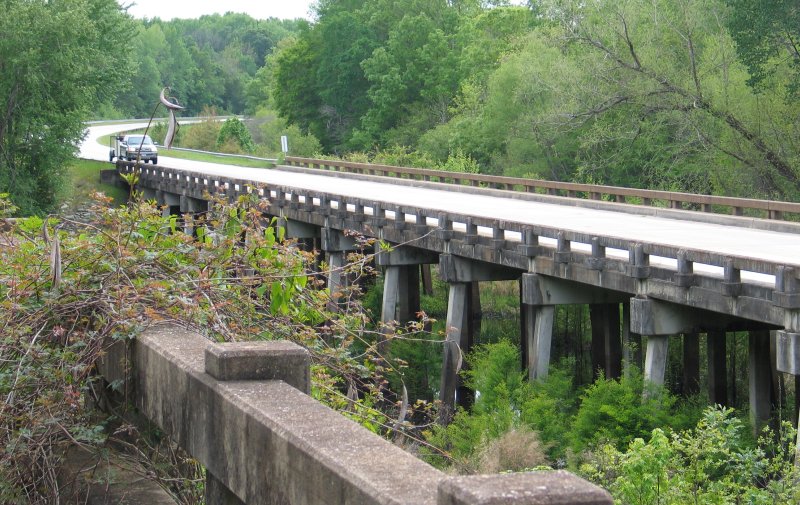 Here's a shot of the active 301 from the abandoned part. This was taken from a span that bridges over swamp land. Note the solid concrete construction of the "modern" 301.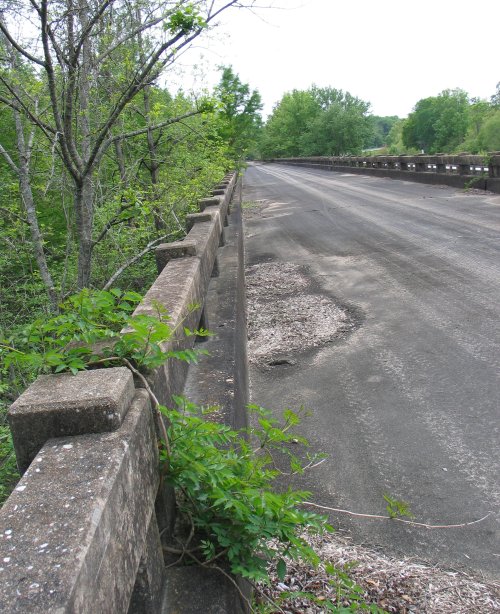 Abandoned bridge shot.
As you can see here, the trees are literally swallowing this old span. This is a common sight all along the old bridge.
This picture is from a little bit further South/West. I've hopped back on the bike and had ridden almost to the state line. I'm right about here. On the map, you can see the driveway leading off of 301, it turns into a dirt road and then just a grass road that goes underneath the modern 301 span. Anyway, this picture shows the very solid concrete construction of the "modern" 301 span.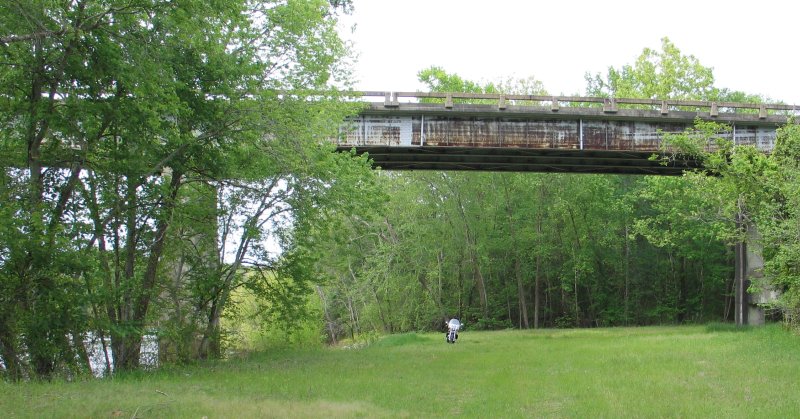 A shot to show scale. Also a shot to show you how nice it might actually be to hang out under a secondary highway. The water to the left is, of course, the Savannah River.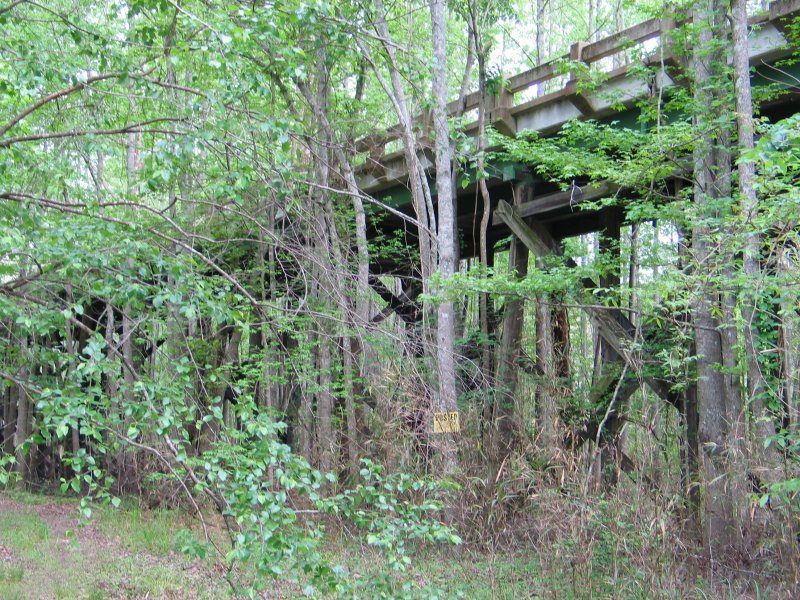 Here's a shot from underneath the abandoned 301 span. Notice anything? Yep. The damned thing is held up by wood. Wood! Maybe I shouldn't knock it, though. It's still standing after over 30 years of disuse, and probably no maintenance.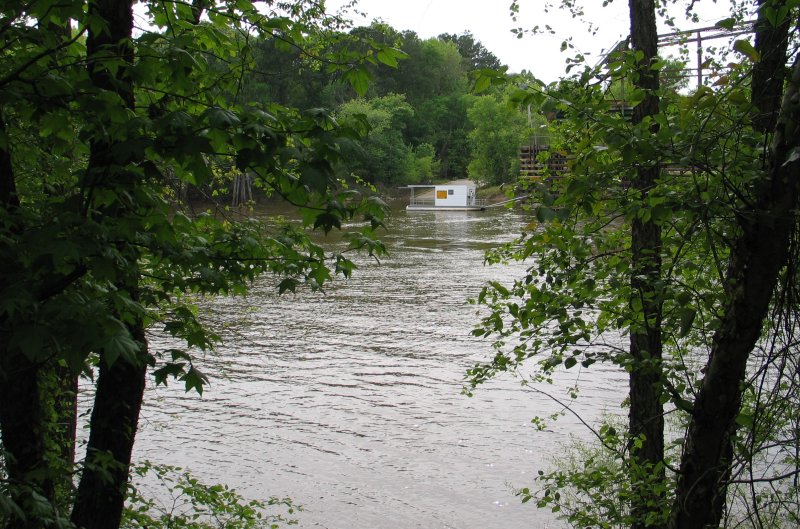 In this shot looking West, you can see across to the boat ramp (that we're about to visit) in Georgia. You can also see a pontoon boat moored in the middle of the river to the disused swing bridge over which the abandoned 301 stretch used to cross. The sign on that pontoon boat reads: "No Trespassing United States Department of Energy". What the hell does the DoE have to do with an abandoned swing bridge?
Here's a picture of the center portion of the swing bridge, swung open of course, from the South Carolina side. Also, Swing Hut! What a neat little control room. I wonder if they could power that thing up and swing it closed. Probably not, but the idea of old technology being powered up after decades and doing what it is supposed to do really excites me. Is this a problem?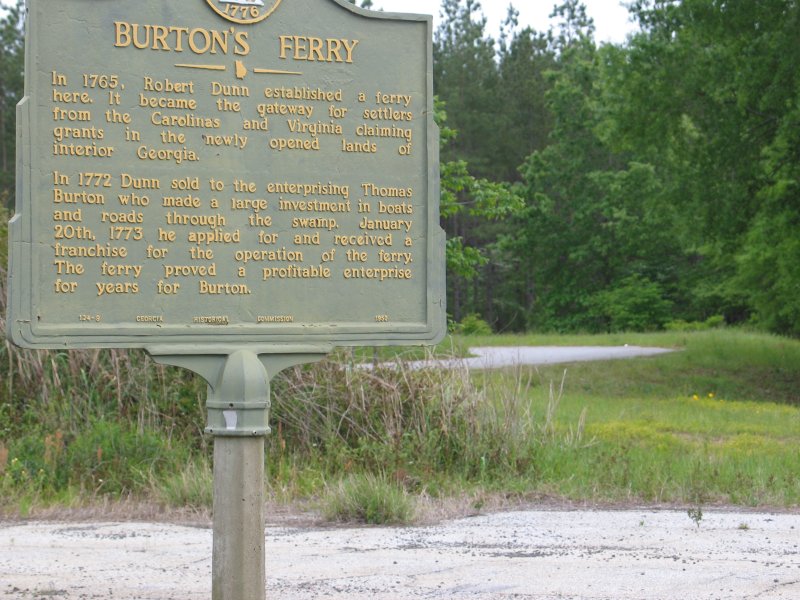 This landmark sign (located approximately here) is dated 1953. 301 has a number of them, and they're all in places that are really inconvenient if you want to read them. I passed one place where there were 3, right in a row, spaced about 4 feet apart from each other, in the middle of a divided section of the road, with no shoulder to pull over onto if you did want to read them. Anyway, we're now on the Georgia side of the border, looking North (er East). The road in the background goes to the boat ramp.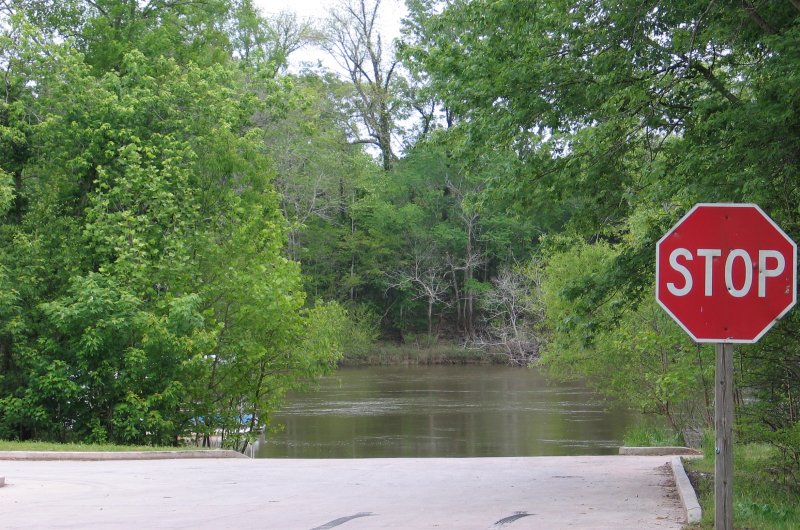 A helpful stop sign reminds you not to drive into the river.
Apparently we're at the Burton's Ferry Public Boat Ramp.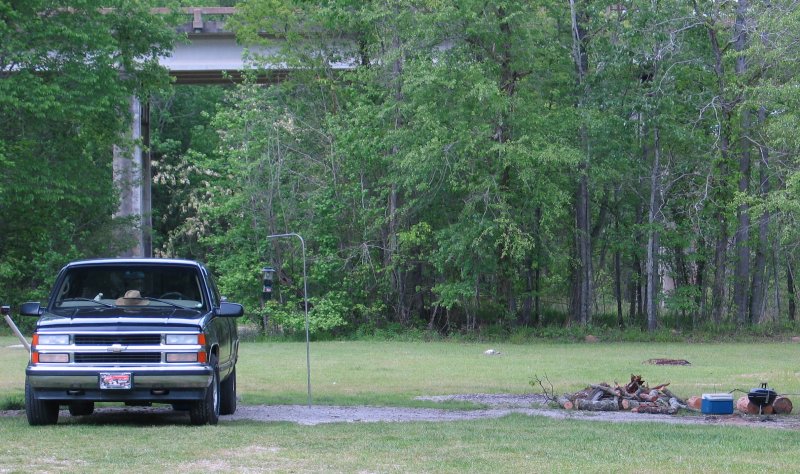 Apparently this boating dude (you can't see the trailer attached to his truck) has decided that not only is this a great place to launch his boat, but he's also parked his truck under the abandoned span and set up camp for an extended stay. That's a lantern on a pole next to his truck. Along with a small grill, a cooler, and a campfire setup. Free camping?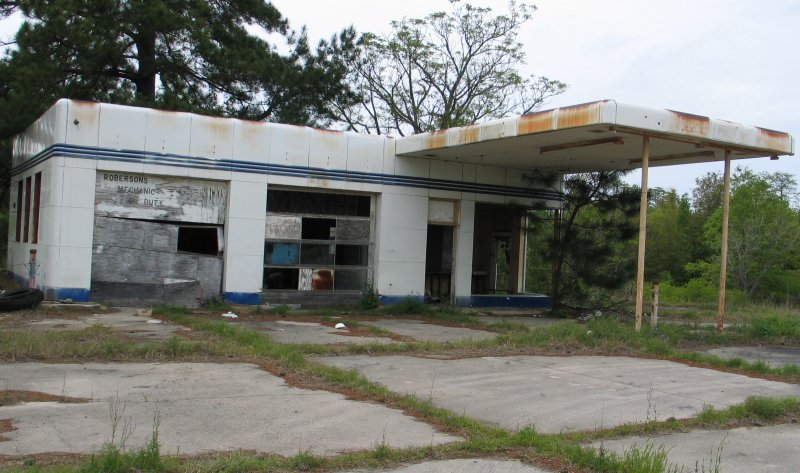 Anyway, it was time to hit the road again. I headed South and stopped at this site, somewhere in Screven County, GA. We're apparently at the defunct Roberson's service station. As you can see in the upper left hand corner, there's a Mechanic on Duty just in case I'm having bike problems!
Here's the front room of the station. It has seen better days.
Let's take a look into the garage from the outside. Apparently this is where the K-9 Posse keeps it's supply of 80s women's casual shirts. Good to know. Also, as you can tell, Roberson's was very solidly constructed. It's not like that's the cinder block wall separating in the back or anything.
Well, as it turns out, there's not much going on at Roberson's. Luckily, I still had plenty of fuel in the tank.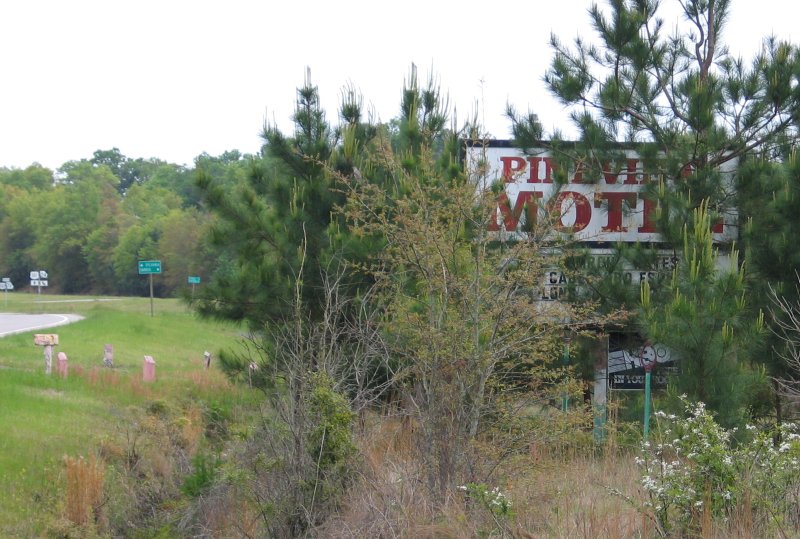 A bit further south in Screven County is our last stop for the day. Welcome to the Pineview Motel. I think it's called Pineview because it's Pine trees that block your view of the sign.
The sign was pretty blocked in the first shot. Here's it from the Southern exposure. Lets see, why did the Pineview fail? Maybe it's LOW "COMRCIL" RATES were not low enough? FREE CABLE HBO ESPN TBS seems like a good idea. Maybe it was the LONG TERM RATS? I'm going with the rats.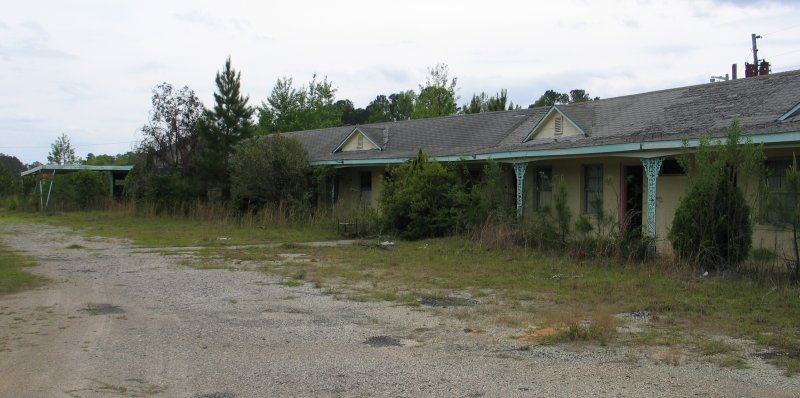 As you can see the Pineview Motel has been closed for quite some time.
I'm not sure those dishes are likely to still get my HBO ESPN TBS. What do the rats say?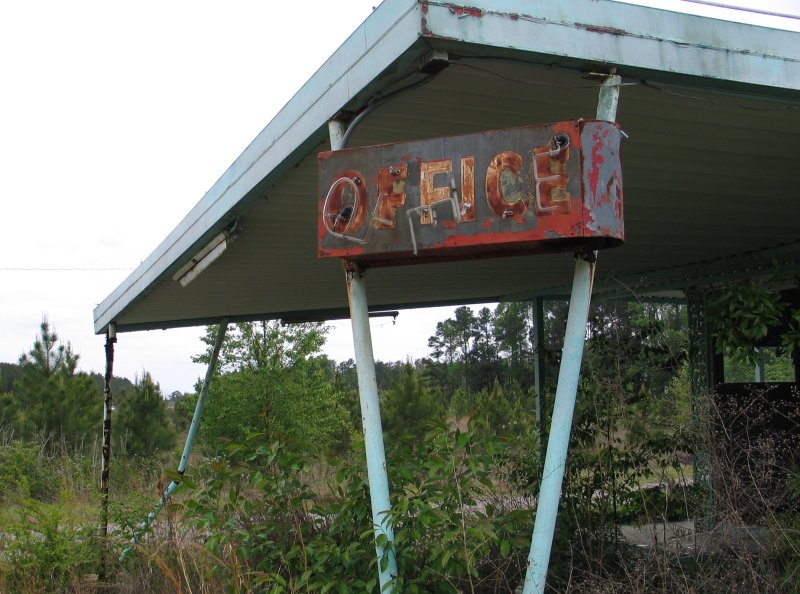 It's a broken neon sign. It once said Office. What do you want from me?
Yep, it's the old office. The windows are broken out. Shocker. Maybe I can find someone to get me a room here.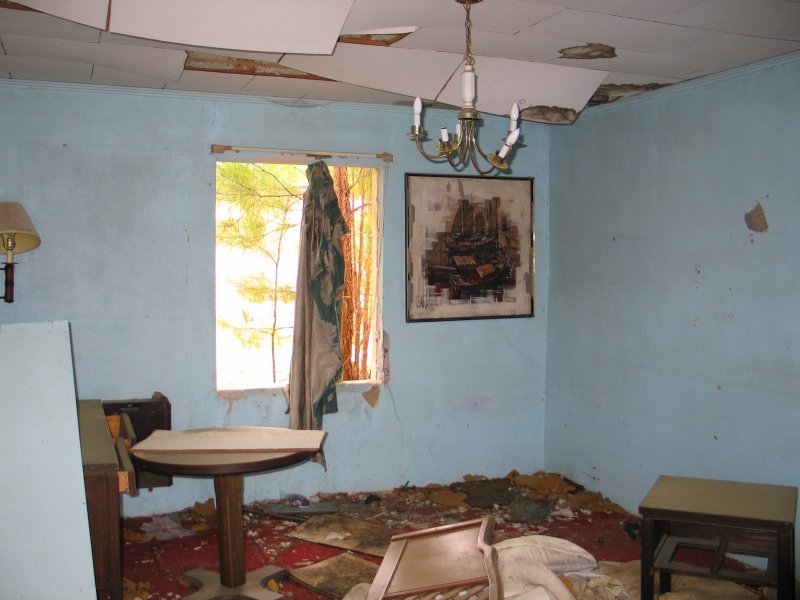 Here's one of the rooms in the Pineview Motel. Small room, but what a pretty painting of a ship!
Anyway, that's all there is for today, folks. After the Pineview, I hopped back onto the Shadow and rode back into The 'Boro. There are literally dozens of sites just along the short stretch of 301 I took that are in various states of decay. Maybe I'll visit some more soon, or maybe I'll head out of Statesboro in other directions to find neat stuff.
I hope you enjoyed them.