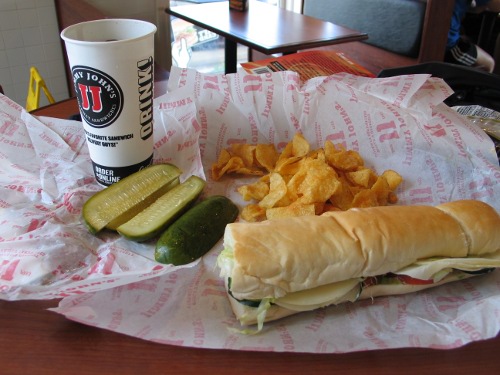 There it is folks, the 270 mile sandwich.
The other day at breakfast, I was drinking out of an old reusable cup I had from Jimmy John's. After I went to work, the thought occurred to me that I hadn't eaten a Jimmy John's sub since before I moved to Georgia in 2008. This got stuck in my head all day, and so I decided to find out where the nearest Jimmy John's shop is located. The answer: Columbia, SC, roughly 130 miles away.

So, here's the thing. There's nothing all that special about a Jimmy John's sub. It's tasty and all, but nothing that's really worth going out of your way to eat. But, I do have a pretty blue motorcycle, and it does like taking me places…
I hatched a plan to head out on Saturday morning. When I checked the weather forecast early on Friday evening, Saturday was supposed to be nice and clear. The path looked super easy: US-301 N to US-321 N. A right onto US-1 in Columbia, and I'd arrive at my sandwich shop. Upon waking up on Saturday morning, I heard the sound of rain. There was also intermittent thunder. I don't mind riding in the rain, if I need to get somewhere, but it's not worth it for a wet ride to get a sandwich.
This morning it was still raining and thundering. Around noon, though, the rain had stopped and the weather radar wasn't showing much precipitation anywhere in the area. Though it was still a bit dark and overcast, I decided to set out to get my sandwich.
The ride up was uneventful. I didn't stop for any photos, as it was pretty overcast the whole ride up. By the time I ate lunch, it was clearing up in Columbia, so I decided to stop by a park to read a little bit in the book I had with me before heading back home.
Checking the iPhone, I saw that there was a park listed less than 1/10th of a mile away from the sandwich shop:
Based on that image, "Bicentennial Park" looked like a pretty sizable park right on the river. Seems like it had promise.
Well, when I got there, it turned out that Bicentennial Park really wasn't much of a thing. Here's an overhead view:
There was a little parking area and a wooden walkway leading down towards the river. The ground was pretty much scraggly overgrown grass and not very pretty or park-like. I decided to give the place a shot, though and walked down the bridge to see where I would end up.
The walkway went around a couple of bends and ended up at the tiny little observation deck type thing. It was maybe 10′ x 10′ and had a little bench. From what I could tell, this observation area, and the scraggly overgrowth were the entirety of "Bicentennial Park". There were some folks off in the grass areas near the water fishing, but besides that there wasn't anyone around.
To the North, the deck offered a view of a the US-1 bridge over the river.
To the South you can see more river.
I sat on the little bench and read a couple of chapters in The Girl Who Played With Fire and then packed up for the ride home.
The ride home was also rather uneventful. I didn't want to get back too late, so I just rode straight through, stopping just to fill up. By the time I got home, it was roughly a 7 hour trip, and was exactly 270 miles.
So there you have it, friends: the story of the 270 Mile Sandwich.